PROGRAMME & BOOKING SLIPS 2018   click to download

• Programme & Booking Slips 2018
2018 WORKSHOPS & STUDY SESSIONS
Study Sessions give members time to revise & work on scripts & personal projects
January 20th 10 – 4pm 'Modern Script'
Tutor Josie Brown
This lively workshop will introduce the popular 'Modern Script which is currently being used on wine labels, wedding stationery, greeting cards, pub blackboards, and suchlike. As a combination of Italic, Copperplate and handwriting – it's quick to learn, fun to do & fabulous for all sorts of occasions and gifts. We will explore colourful and shiny stuff to write with and produce cards, tags, bookmarks, gift boxes/bags etc., all covered in this happy-go-lucky writing
February 17th 10 – 2pm Study Session All levels welcome
March 17th 10 – 4pm 'Dry Brush Techniques'
Tutor Lisa Davis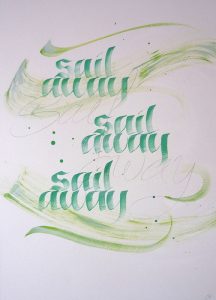 In this workshop we will explore the fascinating world of using the dry brush technique to create letters with a fragile, delicate and airy feel to them.  This will be a day of experimentation and exploration to see what can be achieved with a flat brush and you will build a collection of samples to take away with you.  We'll use a Gothic script as this will allow us to get the feel of both the brush and paint and will also produce some fabulously bold but pretty letters.
April 4th – 29th 'All that Glitters' exhibition of members work
at Lingfield & Dormansland Community Centre RH7 6AB
Opens Mon-Thursday 9 – 4pm Friday 9 – 12pm
Saturdays 1 – 4pm
April 14th Talk by a Guest speaker at the Centre
Friends and family welcome
April 21st Study Session 10 – 2pm All levels welcome 
MAY 12th 10-4pm 'Making Calligraphic Gifts & Cards'
tutor Nancy Ouchida-Howells
 In this workshop we will be creating and writing upon various projects, such as gift boxes and bags, voucher/ coupon wallets, 3-D greeting cards.  Nancy will bring examples of paper craft projects and the class may choose the ones they would like to make and decorate with calligraphy, rubber stamps, patterns, etc.  Some of the patterns may be pre-printed to save time. Suitable for all levels.
June 30th 10 – 4pm 'Italic with a Flourish'
Tutor Jan Mehigan
At this workshop we will carefully look at the Italic script to ensure that we are doing it correctly.
Then, during the day we will relax and add a flourish to the Italic letter form. This is one of the absolute delights of doing calligraphy.
Flourishing Italic is fun to do and a joy to see when executed well. Spend a relaxing and enjoyable day learning how to flourish your letters with confidence.
The flourishes on letters can be big and boisterous, or delicate and gentle.
Please bring a piece of prose or poetry of about 20 words with which we can experiment with different flourishes.
The work on the day can be in black and white or in colour. Later in the day for a stunning effect, you may wish to use Dr. Martin's Bleed proof white gouache on black or coloured paper.
This is suitable for all levels to enjoy.

.
.
.
July 21st Study Session 10 – 2pm
All levels welcome
August 18th Study Session 10 -2pm All levels welcome
September 29th 10 – 4pm 'Roman Rustic' 
Tutor Cathy Stables
In this workshop we will study this beautiful ancient script, understanding how it was written and constructing pen-drawn letter forms.
We will also look at some contemporary examples of the use of Rustics and work towards apiece based on our findings.
.
.
.
---
October 13th Study Session 10 – 2pm All levels welcome
December 1st 10 – 4pm 'Christmassy'
Tutor Cathy Taylor
Impress and delight your family and friends with the exciting personalized cards that will make them feel special.   Spend a relaxing day creating and decorating designs that can be adapted for any occasion.  I guarantee you will thoroughly enjoy yourself and come away with many ideas to develop.