* DITCHLING MUSEUM & DUMBRELL WORKSHOPS
* STANDEN HOUSE
* PENSHURST PLACE
* CHARLESTON IN SUSSEX: HOME OF THE BLOOMSBURY SET
* FARLEY FARM: THE HOME OF THE SURREALISTS
* THE SACRED HEART CATHOLIC CHURCH
* FARKHONDEH AHMADZEDEH
* DITCHLING
* THE CELTIC EXHIBITION AT THE BRITISH MUSEUM
* VISIT TO STRAWBERRY HILL & EXHIBITION
* MEMBERS DISPLAY OF WORK FOR CLAS REGIONAL DAY AT CHICHESTER COLLEGE
* WILLIAM MORRIS' RED HOUSE
* VISIT TO WILLIAM MORRIS GALLERY
* SUNDERLAND UNIVERSITY: LETTERS AFTER LINDISFARNE EXHIBITION
DITCHLING MUSEUM & DUMBRELL WORKSHOPS 30/10/21
To celebrate our first Visit since lockdown we revisited Ditchling Museum to see 'Taking a Line for a Walk' the work of the illustrator John Vernon Lord.
The museum had evolved from the homely interior of Edward Johnston's house of our previous visit into a gallery, with tall walls lit from above and carefully arranged areas spaciously displaying the illustrations upon walls completely constructed in sage green wood panelling.  We were in a beautifully designed spacious atmosphere for exhibitions with space for visitors to enjoy & share a chat about the the exhibits.
Lord's work was absolutely amazing.  He works with the finest  pen nibs and ink and everything in intimately observed detail.
There were illustrations for books such as Lewis Carol's Alice in Wonderland and Edward Lear's poem the Jabberwocky and  illustrations for the magazine Punch.  Beside each exhibit notes included Lord's time taken for completing the work and how he drew all the illustrations in every intricate detail without a break till each and every work was completed.  Frequently this could be overnight into the early hours of the morning.
John Vernon Lord has written and illustrated a number of children's books including the famous 'The Giant Jam Sandwich which has been in print world wide since 1972.  On display for the first time were the working drafts which demonstrated Lord's meticulous approach to illustration.
His early training was as Salford School of Art and the Central School of Art and Lord was influenced by Gerald Hoffnung, Andre Francois, & Paul Klee whose words give the title 'Taking a line for a walk'
Following on from Ditchling Museum we travelled a mile or so to Studio 4 Turner Dumbrel Workshops.
Patricia Gidney kindly invited us to have a close up view of the Edward Johnston Foundation collection of work of many famous Calligraphers who most of us had only heard of – such as Grailey Hewitt, William Gardner, Anne Hechle, David Howells, John Woodcock, Stanley  Knight and many more – before the collection is sent away to it's permanent new home.
Patricia showed us a commission for the Queen with heraldic titles and many pages of  work by different calligraphers, including her personal insights about the work.   Both traditional classic calligraphy & lettering showed how calligraphy could be perfect for celebrating every sort of event or award.
Particularly interesting were the early drafts of lettering for the underground station names for British Transport & David Howell's illustrated unique lettering which just glowed with life.
To round off the very successful visit we enjoyed a meal, tipples and lots of chatter at The White Horse.
STANDEN HOUSE VISIT 31/08/19
Six of us met up for a coffee and snack in the Garden of Standen near East Grinstead next to a massive high barn which was the visitors restaurant. It was a perfect day with sunny warmth and we took our time to enjoy an amazing tropical plant beside the table.
Standen was created by two groups of people interested in creating a fair society from what had become a contrast of rich and poor, particularly to improve the working conditions for the majority who worked in factories. The Beale family were all philanthropists and the members of the Arts & Crafts movement were the other half of the team who created Standen from the original three farm buildings on the site. Phillip Webb was the Architect and William Morris designed & made all the fabrics for curtains and wall hangings. The furniture was all hand made to the arts and crafts designs both practical and comfortably cushioned. William de Morgans lustre ware ceramics were complemented by W.S Benson's metal work. Please do watch a film about Standen by Fifi Ma Gee which explores room by room all the craft workers speciality. Fifi grew up in Standen where her father was the gardener.
As we walked from room to room we experienced the Beale's family home as it was in the 1920's. Compared with contemparary homes Standen's 1920 walls glowed with.every bird & flower and foliage colour. The house is an Arts & Crafts designers ideal combining craftsmanship and quality with practical homeliness.
Standen more than fulfilled our interests in craft and art.
PENSHURST PLACE VISIT 07/05/17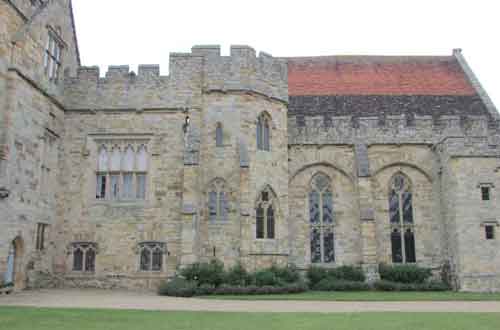 Penshurst Place is one of England's oldest family homes. The Sidney family have owned it since 1552 and was owned by Henry VIII and used when he was courting Anne Boleyn at nearby Hever Castle.
We had a lovely day visiting the house's impressive medieval Baron's Hall and other historic rooms, especially the Long Gallery where they filmed 'Wolf Hall'. We visited the small toy exhibition before having a good lunch in the
restaurant.
The walled gardens are beautiful and some remain true to their original Elizabethan design. The colours of the flowers were lovely.
After a visit to the shop, we visited the nearby St. John The Baptist Church in the village, which has stood there since 1115. It's first priest, Wilhelmus, was installed in 1170 by Archbishop Thomas Becket, his last public act before being murdered two days later in Canterbury Cathedral.
The main feature of our visit was the Sidney Chapel, with its tunnel-vaulted ceiling with many beautiful heraldic shields. There is also a stone figure of a Crusader knight and the tomb of Thomas Boleyn, Anne Boleyn's baby brother.
All in all we had a super day!
CHARLESTON IN SUSSEX: HOME OF THE BLOOMSBURY SET
Twenty 20 minutes drive from Farley Farm we traveled on to Charleston the home of the famous Bloomsbury group of artists, writers, and intellectuals. In 1916 the artists Vanessa Bell and Duncan Grant moved to Sussex with their unconventional household. Over the following half century Charleston became the country meeting place for the group of including  Clive Bell and Maynard Keynes who lived at Charleston for considerable periods; Virginia  and Leonard Woolf, Lytton Strachey and Roger Fry were frequent visitors also Duncan Grant and Quentin Bell.  Charleston represents sixty years of artistic creativity.
Inspired by Italian fresco painting the otherwise plain rooms the walls,  doors and furniture at Charleston were painted in a range of softly toned pinks, greens, yellows with shades of grays and browns throughout either with personal motifs or repeated circular and geometric designs.   A recent interior design vogue for repeat patterns using stencils was inspired by the the home of the Bloomsbury group. Much care had been taken to restore the house as it originally was so that the visit allowed us to feel the atmosphere and have a feeling for the lives of all the artists who had lived there.  The rooms on show included work by Renoir, Picasso, Derain, Matthew Smith, Sickert, Tomlin and Delacroix.
From the windows we looked out on the walled garden created by Vanessa Bell & Duncan Grant to designs by Roger Fry.  Sunshine and a blaze of colour greeted our walk through the classical formal garden with apple trees and a small lily pond.  The garden was at its best showing every flowering plant and silver and contrasting green foliage. Our final pleasure was to stand by the carp filled pond surrounded by trees through which a long figure had been carefully placed as though dreamingly looking at the water.


FARLEY FARM: THE HOME OF THE SURREALISTS
On a Sunny Sunday we walked into reception of Farley Farm, the walls displaying a colourful exhibition and where we were welcomed by Antony Penrose. Our visit's aim was to see the home of Roland Penrose and his American wife Lee Miller who lived in the house from 1049 to 1984 where their son Antony now lives. He generously opens the house and extensive gardens to the public. Lee Miller's first career was as a fashion model and portraitist but her most famous work was as a war correspondent for the American Army in WW2. Roland was a surrealist painter and a friend of Picasso, Miro and studied under Man Ray. Adjoining the house there was an exhibition of Lee Miller's photographs. She followed the US troops overseas on D Day + 20. Lee's photographs were a revolution in photography capturing scenes of war and people in un-glamorized situations in war in contrast to carefully posed pictures. Lee was probably the only woman combat photo-journalist to cover the front line war in Europe. Among her many exploits she witnessed the liberation of Buchenwald and Dachau which affected her for the rest of her life.

Returning to England Lee & Roland invited their surrealist friends to Farley Farm where she cooked surrealist dishes with extraordinary colours while the guests were asked to prepare the vegetables. Surrealist work by these famous guests are on the walls.  The house is very warm and inviting and has many quirky pieces by Picasso, who stayed there often.  Lee and Roland believed that art should be enjoyed as much as possible and should not be put away unseen.  We had a wonderful tour of the house and the items in every room were given very vivid histories linking the lives of the artists and their friendship by our guide who knew more than any book could describe about the work and the relationships of the Artists.

THE SACRED HEART CATHOLIC CHURCH
Robin thought the murals and elegance of this beautiful church interior would be worth a visit from anyone. The Church is in Essendene Rd, Caterham on the Hill.
From 1877 Caterham Barracks was the Depot for the Grenadiers and later the Irish Guards – many of whom were Catholics – and was the basis for the Catholic Parish of Caterham. In the beginning a priest had to travel on foot from West Croydon.
Father Roe was appointed Chaplain of the Depot in 1879 and the Roe family fortune paid for Sacred Heart Church, the Priest's House and the schoolroom. The whole complex was built in less than 14 months at a cost of £5,000. The architect was Ingress Bell.
Much of the interior was from Hardman & Co which worked for A W Pugin (the same firm provided the House of Lords interior).The outstanding murals were designed by Joseph Aloysius Pippet (b 1841) in 1899 and painted directly onto the Reigate stone interior walls.
The mosaic was designed by local artist Margaret Brand. The glass, gold leaf and porcelain pieces were assembled in the Kent studios of Oliver Budd.
Hazel & Robin attended a fabulous exhibition of manuscript paintings by an Iranian illustrator, Farkhondeh Ahmadzadeh  at the Princes School of Traditional Arts.
Farkhondeh kindly allowed H & R to copy images from her web page www.harmonyinart.com for this page.
Her response to queries about materials and technique was as follows.
"For my main paintings, I have used Fabriano Artistico paper. I have done calligraphy on some of them, but mostly, the calligraphy has been done on a different paper, usually marbled, or stained separately, and then I stick them to the main piece.
"I use Hollyhock for sizing when I am painting.I soak the dried flowers, or boil them, then pass them through muslin, and use 2-3 coats on the paper. For calligraphy I suggest egg white."
The work is inspired by "Haft Paykar" (The Seven Beauties or Princesses), a romantic allegorical poem written by Persian Nizami Ganjavi in 1197.
The pages illustrate the transformation of King Bahram from worldly ruler dominated by earthly desires to wise ruler as he progresses through seven pavilions and hearing the stories from the seven Princesses, gaining the understanding of love as the guiding force for justice and spiritual enlightenment.
Farkhondeh recounts a visit to the British Library to look at old Persian poetry manuscripts and being overwhelmed by the thousands of copies and the freedom of access and to actually handle them:
"I remember reading them, touching them, smelling the old papers and hiding my tears of joy and excitement…."
A proportion of the display reflects the transmission of Pythagorean philosophy and the teaching of ancient Greece based on sacred number into contemporary practice of geometry.
During her study at the Prince's School Farkhondeh became aware of "the profound significance of the circle as the timeless archetype and origin giving rise to the forms of calligraphy, geometry and islimi
(bio-morphic motifs).
She quotes Sufi teacher Dr Martin Ling's (former keeper of Islamic manuscripts at the British Museum) sometimes referring to calligraphy as "the knowledge or wisdom of God", geometry as "the awe of or discipline of God" and islimi as "the love or compassion of God".
Ditchling main street showing houses built in ways that worked conveniently with the space and materials of the times.
Hazel and Robin and Sue spent a day in the Centre of Ditchling village visiting the Museum of Arts and Crafts to see Paintings of David Jones.
Situated in Edward Johnston's house the Museum has a modern cafe & shop designed within the beams and rafters of a medieval building.
Calligraphers have known his work and have been exploring their own creative ways of using Roman capitals since his lettering work was seen after their creation in the 1940's.
David Jones' had a precocious curiosity about the past including the Arthurian romances, Roman and British history. He enjoyed drawing animals for their character in reacting to the environment they had to live in with intensity & emotional perception.  He looked at painting and sculpture to inspire a way to interpret Christian faith in his art. He studied at Camberwell college of Art where his tutor Hartrick remarked to fellow students ' Look at that, you see, Jones leaves everything out except the magic'.
As a calligrapher I had not known of Jones painting and etching or his poetry about his experience in the first war as Dai Greatcoat. I hope to find time to read his poetry.  As much of his work is privately owned it is not possible to see the width and variety of his subjects and approaches to different media.The paintings on show were a tiny selection of Jones' range of work of pencil, oil, watercolour, gouache and etching techniques.
I'm in awe of the width of skills & emotion & subtlety of Jones' works of painting and etching and lettering illustrated in 'The Art of David Jones Vision and Memory' by Ariane Bankes and Paul Hills. Hazel and Robin and Sue who is writing this; share this beautifully illustrated book. Reading along with pictures of work on every page has given me an width of understanding of David Jones' intensely felt arts & I can use the history in his map on the end pages to travel into a past which was so important to his work.

THE CELTIC EXHIBITION AT THE BRITISH MUSEUM
Snow was falling in the morning and winter had arrived when we set out to London. Not everyone could make the journey if it was a long one but most of us made it.
The exhibition was created as a historical experience beginning when the excavations of spirals and curvilinear artefacts became known as Celtic Art.
Historical information describing the evolving Celtic culture was in huge text on flour to ceiling walls separating the areas displaying the artefacts or sculptures.
In the last part of the exhibition the walls showed scenes of festivals where Celtic traditions of dance & music are enjoyed in different areas of  Britain and France and Spain. A highlight for calligraphers was  a display page of the Lichfield Gospel.
The Celtic tribes inhabited a vast area from the Anatolian plains through  northern Europe to the British Isles.
The artefacts showed them to be warriors who decorated their weapons and shields and adorned themselves with bracelets, armlets, torcs and collars created by skilled craftsmen.
The jewellery was made from iron, silver, bronze and gold with stylized  horses, boars, & birds sometimes included as part of the design.
'When dining they all sit not on chairs, but on the ground, on wolf or dog skins…..Beside them are the hearths blazing with fire, with cauldrons and spits with great pieces of meat: brave warriors are honoured by the finest portions.'  Diodorus Siculus
The Celtic beliefs were connected  to life size sculptures of double headed males facing both ways with incurving horns.
The Celts conversion to Christianity in the British Isles brought about the creation of crosses carved with complex and individual designs & interwoven knot work patterns.  Knotwork has beeen an inspriring design for calligraphers to this day.

MEMBERS DISPLAY OF WORK FOR CLASS REGIONAL DAY AT CHICHESTER COLLEGE HOSTED BY SUSSEX SCRIBES & SOUTH HANTS CALLIGRAPHERS
Roman Capitals designed by the visitors on the day. The idea of a 'wall' of the Roman Capital alphabet caught everyones imagination. Themes explored illuminated, diapered & colouring techniques of letters in variety.
No 12 Hazel's O with great use of a ruling pen. No 16 Robin's W with mythical creatures
WILLIAM MORRIS' RED HOUSE
The Red House has a neo-gothic door arches and a medieval theme designed by Morris as a family home. His ideas and life's work were in bringing craftsmanship & artisan skills back into what he saw as demeaning industrialized & factory based work.
William's wallpapers are still being printed.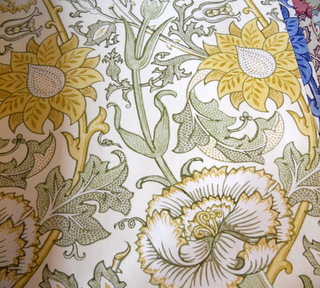 Windows were positioned to suit the design of the rooms rather than to fit an external symmetry. A variety of different window types, including small decorated squares of stained glass set into circular frames.

WILLIAM MORRIS GALLERY at WATER HOUSE in WALTHAMSTOW
Extensive redevelopment included a new gallery and space for temporary exhibition.
Members were able to spend  a day looking at the variety of designs by William Morris & enjoyed a very good meal at the new cafe overlooking the gardens.
There was much to enjoy as William Morris was involved in so many aspects of the Arts & Crafts movement.

SUNDERLAND UNIVERSITY: LETTERS AFTER LINDISFARNE EXHIBITION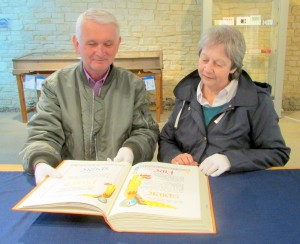 The 'Letters After Lindisfarne' were first exhibited at Durham Cathedral then at Sunderland University prior to being bound in four volumes and touring the country.
Hazel Walter & Robin Dewell visited the exhibition at Sunderland and the accompanying pictures give a flavour of the contributions. They are shown looking at their work in the Lindisfarne book. The Beatus and Blessed page is the work of Bernie Laird and Karen Rainger.