WELCOME TO THE WEBSITE OF THE LINGFIELD SCRIBES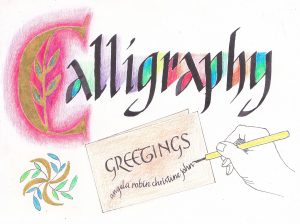 Lingfield Scribes welcome new members to join our small friendly group.
We aim to share the skills and enjoyment of calligraphy with everyone.
Complete beginners will be given guidance from members to enable them to practise calligraphy.
Calligraphy equipment can be provided to beginners for the first Study sessions.
Workshops subjects cover classical scripts and contemporary variations. Contemporary approaches include creating pencil & brush lettering. Simple Heraldry will be added this year. Unless otherwise stated all workshops are suitable for all levels of ability.
We are privileged to have been taught by the most talented tutors who have inspired us with their superlative work and teaching skills. Past tutors have included Tim noad, Mary Noble, Nancy Ouchida Howells, Gaynor Goffe, Viva Lloyd, Kathy Taylor, Jan Mehigan, Jan Pickett, Paul Antonio, Rosella Garavaglia, Mark L'Argent, Joy Daniels, Marion McKenzie, Michael Walsh, Lisa Davis and many more.
Visitors are invited to members' exhibition on the theme 'All at Sea' from Thursday 6th – 29th April at the Lingfield & Dormansland Community Centre, Lingfield RH7 6AB. www.lingfieldcentre.org  Visiting times 9.am till 4.30pm Monday to Thursday and 9am till 12pm on Friday. Please see www.lingfieldscribes.co.uk  see CONTACT page if you would like to visit on a Saturday afternoon.
View the gallery here: Signs Of The Season
For details of dates and fees, please see the Programme page.